WP, Icons, SFR, and Beppi! ;-)
Hello my fellow writers,
For the next few weeks, I'll be working from long To Do lists, as I launch a new pen name with 6 books (Pre-orders, here I come!), reboot an old pen name by targeting a new readership with new covers and a new book, and continue writing yet another new series…
Among my tasks — Work on four websites: refining TinkBoordDill.com, and building several new pen name sites.
I figured I'd share with y'all as I go thru the process. Maybe it will help you, too 😉
I am using WordPress. The author websites will be variations of one final plan. I KNOW I want a slideshow on the Home page to display New and Upcoming… but still deciding beyond that!
For all four of them, I want to make sure I have eye candy — a featured image for each post… I'm a stickler for respecting copyright — no surprise — and I know I don't want to purchase an image for each site/each post!
Luckily, I have a trick up my sleeve. NOTE –  for long term results, you need to choose a color palette and stick with it…
Here is a huge array of Icon Sets for FREE 😉
http://icons.mysitemyway.com/legacy-icons/
I am using the Blue White Pearls  on TinkBoordDill.com if you want to take a look. I upload a reasonable assortment to start with and then add to as needed…
And following along with WordPress, here is a good, free report on protecting your site contents 😉
http://www.problogger.net/archives/2016/04/21/how-to-create-a-backup-and-disaster-recovery-plan-for-your-blog/
*****
WARNING – RANT 😉
Recently I saw a question on Kboards… The title said it all, so I didn't bother to read the thread…
SUBJECT — $5,000 a month or more with no sex scenes?
O.M.G. <lifts head from desk> <wipes off blood>
Now, I think that part of the problem *might be* that the person asking isn't a reader. And you know, that's OKAY, as long as you 1) DO THE RESEARCH and 2) BECOME A READER….
Here's the deal… While Indie publishing has resulted in a HUGE increase of erotica… there are still MANY/A MAJORITY of genres where sex is NOT part of the equation. Take out the ROMANCE Genre, and I'd hazard a guess that the majority of genres/sub-sub-sub-genres had none to mild sex…
Note – this doesn't mean there isn't a love story or romantic sub-plot, it means we don't have graphic descriptions of Insert Tab A into Slot B.
In the ROMANCE genre, generally considered the largest Genre, the amount of sex and the detail given is on a sub-sub-sub-genre case… As Indies dominate (no pun intended here) we're starting to see sub-sub-sub-genres that split into two version – with sex and without… As an example – Mail Order Brides
Amazon has started a category of Clean and Wholesome, which may or may not also be Christian…
Here's the deal…
1) Put sex in books only when appropriate to the readers' expectations…
2) Research those expectations to understand how far to go… For example, one sub-sub-sub-genre  might not want sex and also not approve of sex before marriage. Another one, might not mind sex before marriage between adults, but you don't watch
3) DO NOT ASSUME THAT ADDING SEX WILL MAKE A BOOK SELL BETTER. Just don't.
CONCLUSION – Meet Readers Expectations, which OFTEN DO NOT include sex.
*****
Now somewhat tied into my rant, above, Alex of K-Lytics has another good report out, along with an interview with one of my very favorite people – Michelle Spiva
http://k-lytics.com/dap/a/?a=328&p=k-lytics.com/sales/sci-fi-romance/
If you are interested, it's pretty good 😉
That said, and back around to my RANT…
Be aware that this report focuses on a very small, albeit lucrative, sub-sub-sub-genre. In this one, readers WANT sex, BUT….
There are beaucoodles of other SFR (SciFiRomance) sub-sub-sub-genres where things maybe less steamy.
DO YOUR HOMEWORK. DON'T MAKE ASSUMPTIONS…
*****
Lastly, what seems to be becoming a staple of my emails 😉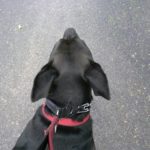 Beppi!
When he is on a walk, he goes into *Arrow Mode*
Note the sweep of the ears back from the precious little nose. What can I say? He's adorable. And on almost every walk some one in a car will tell us, or wave and gesture. That didn't happen with the big guys. lolol
Butt in Chair and Happy Writing to you!
Tink